Winners of Essay Writer Contest Contest:
1st place: 
Lin Liang
Topic: Is globalization good or bad?
2nd place: 
Finlay Roberts
Topic: Can Money Buy You Happiness?
3rd place:
Raghib Ra'id Aswad
Topic: Should animals be used for research?
All the winners will be contacted by e-mail.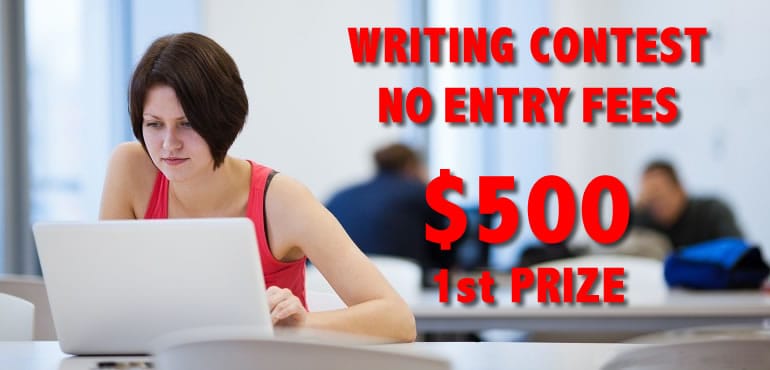 Essay writers contest 2017
Today we would like to announce great news – a new essay writing contest has started! This is an opportunity just for you – any one can participate in the contest, so if you are inspired, please join. Seems too good to be true? But this is still true. There are absolutely no limitations for those willing to join – participants from all countries and of all age groups are welcome! You do not need to be a professional writer to take part in the contest. Of course, we welcome professionals, too. However, it is only your willingness to participate that matters and the ability to write in English, certainly.
Free Participation
Participation is absolutely free.
Deadline
The contest will take place until December 30, 2017 12:00 PM UCT.
The winners will be announced and receive e-mail notifications by January 20, 2018
Essay Topics
The range of topics is quite diverse:
Is globalization good or bad?
Should animals be used for research?
Should Video Games Be Considered a Sport?
How Should Children Be Taught About Puberty and Sex?
Are Children of Illegal Immigrants Entitled to a Public Education?
Can Money Buy You Happiness?
Should Marijuana Be Legal?
Should Students Be Required to Take Drug Tests?
Should Euthanasia Be Legal in Every State?
Do Poor People 'Have It Easy'?
How to participate?
You may ask – why should I participate in this essay writing contest? There actually are many benefits of joining such contests. The contest gives you an ability to express yourself and to share your thoughts with the public. You can research an important theme, formulate and develop your brilliant ideas, give them shape and present them to other people. Essay writing stimulates your ability to research and analyze information and encourages to expand your knowledge. In addition, it improves your vocabulary, writing skills, creativity and logical thinking.
The skill of presenting information in a concise and understandable way is invaluable in the modern world. Businesses highly value people who can present their thoughts in written form and impress the audience. So by participating in an essay writing contest, you can enhance your business skills and competencies. The very fact of taking part in an essay writing contest makes you more valuable as a student or as a professional. If you manage to win one of the prizes, you can easily list this achievement in the resume.
Taking part in writing contests can satisfy your need for recognition and fame. This is a challenge to compete with writers all over the world. Your essay will be presented to the real audience, so it will be a great opportunity to impress this audience. If your essay makes it to the top, you can definitely be proud of such achievement. Your name will be written in our hall of glory, and other participants will view you as an example – just imagine!
If you are a school or university student, it is highly likely that you face essay writing from time to time. This contest can be a great opportunity to practice writing – you have a wide range of topics to choose from. The experience received during the contest will help you in the admission or graduation processes. Even if you are not a student anymore, you might decide to expand your knowledge in the future and have to deal with essay writing again. This contest is a perfect opportunity for you as an essay writer to sharpen your writing skills, your vocabulary, and composition skills. Your essay will reach a real audience and receive feedback. This can be an excellent learning opportunity and an opportunity to present yourself to the world.
Guidelines
You are required to write an essay consisting of 900-1000 words, following the MS Word Format. All work must be composed in English language, and you are required to mention all your contact info on a separate page. We a have strict policy against plagiarism and we advise the candidates to refrain from engaging in plagiarism, as we will thoroughly examine each essay to ensure that the writers have produced original content. Your essay will get disqualified if it is suspected to be plagiarised. Remember, make sure to provide us with an essay that has not been published before, so even if you are an employed blogger or writer, we want you to provide us fresh and original content.
Judging
Upon submission, your essays will be evaluated by our highly qualified team of writers, who will grade you according to the work you have produced.
Disclaimer
All written submissions may be posted on our website, social media accounts or elsewhere as we see fit.
What is most important – there will be cash prizes for the winners! The winner of the first prize gets 500 USD. The holder of the second place will receive 250 USD. The hero who manages to win the third prize will receive 150 USD! In addition top 10 essay writers will receive a job offer from us!
As you can see, taking part in essay writing contest can be very beneficial – you can strengthen writing skills, share your thoughts with other people, impress the audience all over the world, become famous and win a decent sum of money. Please fill the form below to use this excellent opportunity and to participate in the essay writing contest. Good Luck!
[contact-form-7 id="7096″]
Essay Writer Scholarship Testimonials
Unfortunately I did not win this scholarship, but it was great experience and I'll try for sure next year too. EssayWriting expert thank you for this opportunity
Congratulations to the winner, I'm sure you was the best. But I think that for now I know what were my mistakes and I really upgraded my writing skills writing an essay for this contents
OMG, for me it was so difficult to distinguish all these essay types. Every time I have to consult with my tutor, rewrite the essay again and again. So glad that now I can just fill in order form, specify all details and get exactly that essay type that I need.
I like to take part in different scholarships. In my college, I'm the active student and I know that some times I can loose. Sure, I prefer to win, but essay writing is not my talent, I prefer some math contents. Anyway hope the winner will spend money wisely.
My mom showed me the link for this scholarship, she considered me to be a very talented writer ☺ actually I'm not and I hate essay writing. But for my mom it was very important and I took part in it. Sure, I did not win and I hope that next year she would not ask me again to do this. P.S. she also asked me to write this review ☺ .
My essay is about money and happiness: "Can Money Buy You Happiness?" I do not know exactly why I prefer this topic, but it was interesting to think about deeply and as a result, I did not get the exact answer is it possible to buy or not… I would consider thinking about this topic even after the essay was finished. Hope I'll win the scholarship and I can spend money on fun.
Should Euthanasia Be Legal in Every State? This is what I choose for my contest essay topic. Unfortunately my family faced this problem before and I have what to write about to convince my readers. Hope to be one of the winners.