Test Prep: GRE, GMAT, LSAT, ERB, SSAT and more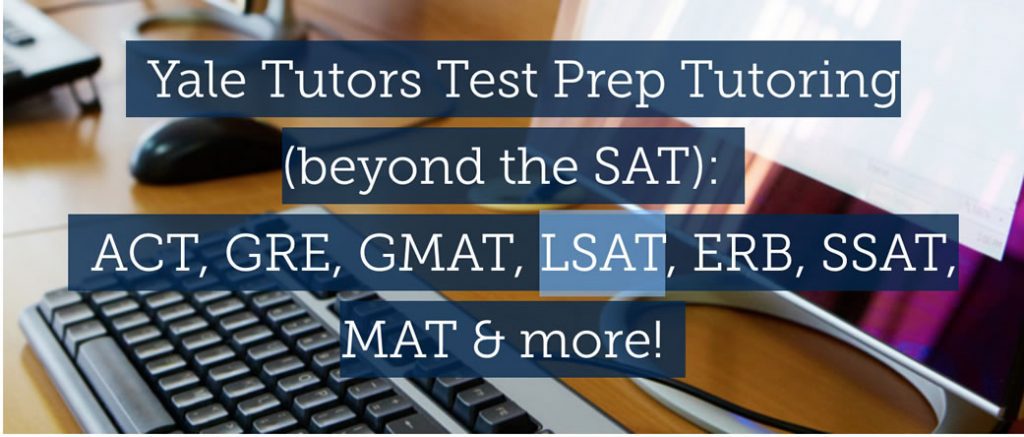 We regularly prepare students for the ACT, ISEE, SSAT, MAT (Miller Analogies Test), GRE, GMAT and LSAT examinations in addition to the SAT.The GRE, GMAT and ACT tests are essentially slightly modified SAT tests, and the ISEE and SSAT tests are also quite similar to the SAT but for younger students. Thus, the same approach and methods that we've developed for the SAT also work for these tests. To find out more about our general approach, do read our approach for the SAT test which again carries over to these other tests as well.
To get started or if you have any questions about our approach to any of these tests, please contact us!
A Few Thoughts on the GRE, GMAT and LSAT tests
Here are some brief thoughts on our experience with and approach for the GRE, GMAT and LSAT tests.
GRE
For the GRE, we highly encourage our students take the written exam as our techniques work best for them (as opposed to CAT or computer-based exams). For students taking the computer-based version of the GRE, there are special methods and strategies which we teach because of the adaptive nature of the test and the constraints taking it via computer imposes. If you had difficulties with the SAT exam in high school, fear not, as we work with many students who had trouble with the SAT but do extremely well on the GRE.
GMAT
Being a CAT (Computer Adaptive Test), there are particular strategies related solely to its "adaptive" nature you'll have to adjust to. We find data sufficiency questions on the math section are particularly difficult for students and require practice to master.
For students who haven't taken a math course in years, we're able to teach cram course GMAT mathematics – all the arithmetic, geometry and algebra you need to know for the test. For practice CAT exams, we unfortunately have to rely on independent vendors as the GMAT test-makers haven't released very many CAT exams. We usually do a mix of book or written work with test-maker prepared questions and practice CAT exams from other sources.
LSAT
We enjoy prepping students for the LSAT because there are few surprises with this test. Dozens of actual LSAT tests have been released so you can practice to your heart's content (we'll need you to do at least one full practice test every week), and your practice test score should be an accurate gauge of your test day score.
We find many students initially have difficulties with the logic games but can make quick progress after learning and practicing a methodology for approaching the problems (with guidance). For the arguments section, we use elementary logic concepts as a tool for breaking down arguments. For students with a longer time-frame, we have organized brief courses in introductory logic and argument analysis to complement direct work with the LSAT test.
Our general methodology for approaching reading comprehension also works well for the LSAT's reading comprehension section (and we can certainly teach it to you). Time is one of the things that makes the LSAT a difficult test–it's tough to get to everything and get the problems correct in the allotted time.
We generally follow a two-step approach for preparation. We first aim for familiarity, comfort and accuracy (not paying much attention to time limits), and then as the test date gets closer, we'll focus on timing (answering questions accurately within the strict time limits).
Other Tests
If you need help preparing for a test other than those mentioned above, do contact us, as we likely have tutors with experience preparing students for it.
Online Educational Resources for Test Prep & College Admissions
SAT calendar, Fees, Registration Deadlines. Plan your SAT test date(s) and register online.
SAT Online Course. There are seven College Board written practice SAT tests included in the course which makes it a great supplement to the ten tests in the Official SAT Study Guide. Check with your guidance counselor to see if your school has a subscription to the College Board's online course, then you can take it for free.
ACT Test Dates Calendar. Plan your ACT test date(s) as well as register online.
ACT Test Preparation Resources. These materials are all from the ACT organization itself and are the most reliable resources for preparing for the test.
AP Test Free-Response Questions. Practice old free-response questions before you take the real test. Lots of great questions.
Khan Academy SAT Math Problems are free videos that explain how to solve every one of the 432 math problems in the College Board published book, the Official SAT Study Guide. A great resource!
Common Application Members List. This is a list of all the colleges that accept the common application.
Berkeley college Admissions Screening Session Video. This is a short video clip of U. Cal. Berkeley's college admissions committee discussing candidates' applications–a rare direct look into how these committees operate and what they look for.
Princeton Review Counselor-O-Matic is a helpful and free resource that based on your details and preferences generates a list of colleges that may be good fit for you.
At Unigo, college students reveal what they love and hate about their respective colleges. A great resource to get an insider's perspective of what it's like to attend a particular college.
GRE Test Registration and Information. The Practicing to Take the GRE Test book prepared by the ETS with seven practice exams is crucial for GRE preparation.
GMAT Preperation Materials. At mba.com, you can register for the GMAT as well as get for free or purchase materials to prepare for the test.
LSAT Registration and Test Information. You can register for the test and explore law schools at lsat.org. You can get LSAT materials there as well or purchase books of 10 tests each (10 Actual LSATs, 10 More Actual LSATs, etc.) from most bookstores.
Online Video Courses and Lectures
If you're having trouble in a college course–say your lecturer isn't too clear–try looking for the same course at another college. More and more universities including MIT, Stanford, and Berkeley to name a few are putting complete video lectures and curricula on the internet for many courses. These are a great resources for autodidacts–if you want to learn a subject, you can take these courses for free online (of course we'd recommend you work with a tutor to impose some discipline/accountability on yourself…). Here are some sites:
University of Washington offers courses on Hamlet, Jazz, and more.
U. Cal. Berkeley has lots and lots of video lectures and podcasts of course lectures online.
Stanford offers many course lectures via podcast.
MIT has many courses with video lectures online.
Khan Academy Math Videos explain many mathematical concepts from arithmetic through calculus.
TED is a fantastic site with short but highly engaging, informative and stimulating lectures. It's not somewhere to go to if you want to learn linear algebra, but if you want some quick "brain stimulation", this is the site for you.
Lecture Notes, Problem Sets, and General Class Resources
If you need some supplemental materials to help you learn a topic, many teachers and professors have uploaded class notes and various other materials.
At Slideshare you can find many lecture and class notes (in the form of powerpoint presentations) on virtually any topic or subject.
Cramster offers lots of educational resources including textbooks, problem sets, class notes and more.
SparkNotes has summaries of lots and lots of books, historical events, and ideas. It's useful for a quick review for covered topics or a summary of a topic that's slightly tangential to your course. Do not use the site as a substitute for reading assigned texts but rather as a supplement!
MIT has many courses with video lectures online.
K-5 Sites
Here are a few sites that we've enjoyed sharing with K-5 students.
Webmath.com Great site that explains lots of math concepts from K-12; very useful for parents who need to brush up on some math topic to help their children.
Multiplication.com Fun games to help motivate children to practice multiplication and master their multiplication tables.
iKnowThat.com Site with many games, quizes and other resources in all K-5 subjects including math, social science, science, arts and language arts.